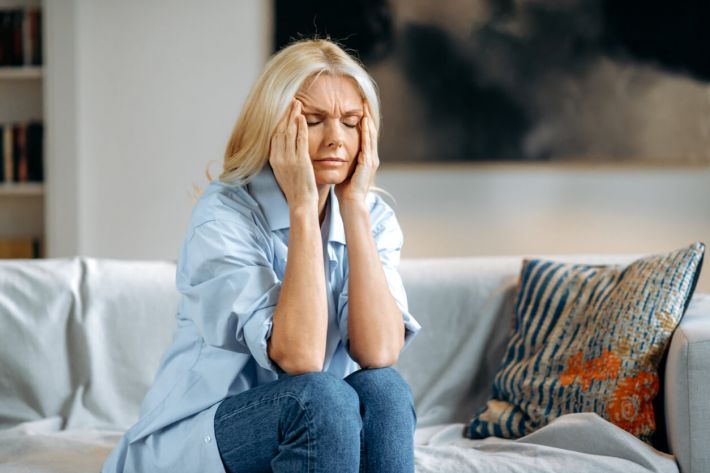 2023-01-26

on

Thu 26

Jan
You might be surprised to know that migraine and menopause and closely associated with over 90% of women being affected by worsening migraine symptoms during the years that they approach menopause (This period is called perimenopause)
The hormone which is the main culprit for triggering migraine is oestrogen. This is because your menopause brain likes homeostasis – that is an unchanging situation – and fluctuating oestrogen obviously compromises this desired stability.
For most women their migraines will reduce and then disappear - at the latest -about two years into menopause as hormones settle down. If this is the case you should obviously discuss reducing or eliminating any migraine medications that you may have been prescribed pre menopause with your GP.
However, non-hormonal triggers can still persist after this so it is important to see if you can identify which triggers affect you. You can see the most common triggers listed in this blog post
Some migraines continue after menopause
Some studies suggest that women who experience migraines with aura do not improve at menopause as much as women with non-aura migraine.
Aura is migraine with visual symptoms such as flashing lights, pulsing colours, zig zag patterns in your vision, tunnel vision or even temporary blindness.
Aura migraines are also less likely to improve upon menopause than menstrual migraines.  See this blog post about menstrual migraine.
Some women develop migraine at menopause
A small percentage of women develop migraine for the first time around the time of menopause and some women who have previously experienced a headache disorder may find that these become worse.
It is not clear why this happens and, of course, this can be highly individual but here are a few suggestions as to why this may be happening.
Have you recently had your eyesight checked?
The levels of oestrogen affect the shape of your cornea so lowering levels can cause your eyesight to be blurry (and make your eyes too dry for contact lenses in some cases). Eye strain can then lead to migraine.
So, if you haven't recently visited the optician maybe you should…
Have you thought about your use of screens? Has it increased?
Eye strain can also be brought on by looking at screens on your phone, iPad or computer. To reduce the risk of this:
Limit your screen time
Take breaks Try the 20-20-20 rule: Every 20 minutes, look at something 20 feet away for at least 20 seconds.
Make sure your screen is not bouncing reflected light into your eyes
Adjust your settings to make the brightness and contrast comfortable for you.
Are you sleeping badly? This can be a trigger
Lower levels of oestrogen can result in a drying of the genital tract which then means you may be getting up in the night more often to go for a wee…
The natural changing levels of progesterone and melatonin can also have a negative effect – in some cases even causing sleep apnoea – a condition which used to be ascribed only to men. Sleep apnoea in women doesn't necessarily appear as snoring or snorting loudly – symptoms include headaches, insomnia, depression or anxiety and daytime fatigue
You may even experience the onset of something called restless leg syndrome.
For some women HRT can help, some women are prescribed low dose anti-depressants, and some have found Cognitive Behavioural Therapy for insomnia (CBT-i) of help.
Are you more anxious that you used to be?
It is not uncommon for women in menopause  to be generally more anxious than they were when younger. I talk about this here 
Of course, anxiety can also trigger migraine. Again HRT and CBT can help with anxiety and I list 14 other way to reduce anxiety in this blog post
Treatment for Migraine
If you are newly experiencing migraine you should in any case consult your GP. Whilst it is likely to have been caused by common triggers it is important to rule out anything neurological.
The most common medication for migraine are drugs called Triptans. However, as people get older these are not always the most appropriate so make sure you ask your GP to review your medication if you are diagnosed with:
High blood pressure
High cholesterol
Angina
Vascular disease
Stroke
Diabetes
Impaired liver function
You can be prescribed more suitable drugs which don't constrict the blood vessels.
I hope this has been helpful.
We make every effort to ensure that all health advice on this website is accurate and up to date. However it is for information purposes and should not replace a visit to your doctor or health care professional. As the advice is general in nature rather than specific to individuals we cannot accept any liability for actions arising from its use nor can we be held responsible for the content of any pages referenced by an external link.