The do's and don'ts of monitoring your blood pressure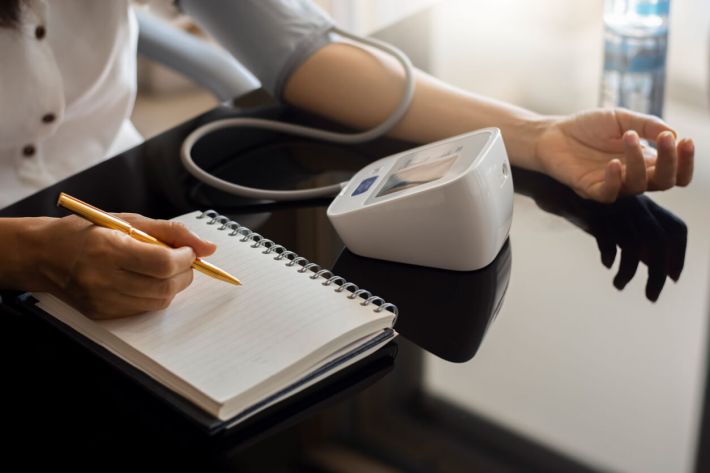 2022-11-307

on

Thu 3

Nov
It's not uncommon for people's blood pressure to be higher than they expect when they get it measured by a doctor. This is known as "white coat syndrome"
You might have thought this was a light-hearted term, but it is actually a genuine condition and occurs because people can get really anxious when in a medical environment.
Sometimes your GP will do two further readings whilst you are with them and be satisfied that your blood pressure was initially spiked by your anxiety. But occasionally they will want to make sure this is not an ongoing situation.
If they have a strong concern that you have high blood pressure you may be given an ambulatory blood pressure monitor to use over a 24-hour period. But it's more likely that they will ask you to take your blood pressure on your own monitor at home over a few days
What do the readings mean? 
A normal blood pressure is 120/80
If it reads between this and 129/80 this is considered to be elevated but at the prehypertension stage so lifestyle changes could help to lower your blood pressure.
A reading of between 130/80 to 139/89 is considered to be stage 1 hypertension and you may need to start taking medication if recommended lifestyle changes have had no effect. This is especially the case if you are at risk of heart disease
A reading of 140/80 to 179/119 is considered to be stage 2 hypertension and serious enough to warrant taking one or more medications to lower your blood pressure
180/120 or higher is considered to be a medical emergency and you should seek medical help straight away
Important do's and don'ts when taking your blood pressure
Blood pressure varies throughout the day. It is typically higher in the morning so you will usually be asked to take your blood pressure twice a day and this should be at the same time each day.
Always use the same arm.
In order to get an accurate reading of your blood pressure you should use a monitor with an arm cuff rather than one which wraps round the wrist. That cuff needs to be the right size – they do vary:
A small cuff is intended for an upper arm circumference of less than 23cm
A medium cuff is intended for an upper arm circumference of 23-33cm
And a large cuff is intended for an upper arm circumference of between 33 and 50cm
You should then be mindful of the following:
Don't take your blood pressure as soon as you wake up – allow at least 30 minutes to pass
Do take it before you take your medication
Do take your blood pressure before a coffee or a meal as both can temporarily raise your blood pressure.
Don't take your blood pressure within 30 minutes of smoking, exercising or drinking alcohol for the same reason
It's a good idea to take your blood pressure having recently emptied your bladder.
In a warm and comfortable room, place your monitor on a table so that your arm is supported with your elbow at the level of your heart
Roll your sleeve up so that the cuff is on your bare skin
Position your cuff correctly – you will often see a mark on the cuff which should be positioned over the artery at the crease of your elbow on your inner arm
Relax for at least 5 minutes in this position before you take your blood pressure
Keep your fleet flat on the floor
Don't talk or move your fingers while you are using the monitor
If the reading is higher that you would have anticipated wait three minutes then take it again. If the two readings are very different take a third reading.
Don't worry about small changes - this is entirely normal
Don't panic if you have an unexpectedly high reading unless it remains at this level for 2-3 weeks at which point you should see your doctor.
Don't take your blood pressure too often as this can cause stress or worry which can in itself raise your levels. After the first week of measuring take your blood pressure once every week or two.
Some blood pressure monitors will store your readings and provide an average. Otherwise keep a record and either way make a note of anything that may have affected your blood pressure – such as a change in treatment – and any symptoms such as headache or dizziness that you may be experiencing
Lifestyle practices that can have a positive effect on mildly elevated blood pressure.
All of the following can help to reduce your blood pressure:
Cut down on alcohol, caffeine and cigarettes
Eat a healthy diet and lose weight
Exercise more – adults are recommended to do at least 2 hours 30 minutes of moderate intensity aerobic exercise each week. Fast walking is an example of this.
Relieve stress through actions like mediation or simple deep breathing exercises
Keep well hydrated. My recent blog post might be of interest on this respect: 
I hope this has been helpful.
We make every effort to ensure that all health advice on this website is accurate and up to date. However it is for information purposes and should not replace a visit to your doctor or health care professional. 
As the advice is general in nature rather than specific to individuals we cannot accept any liability for actions arising from its use nor can we be held responsible for the content of any pages referenced by an external link.