Why you should have a flu jab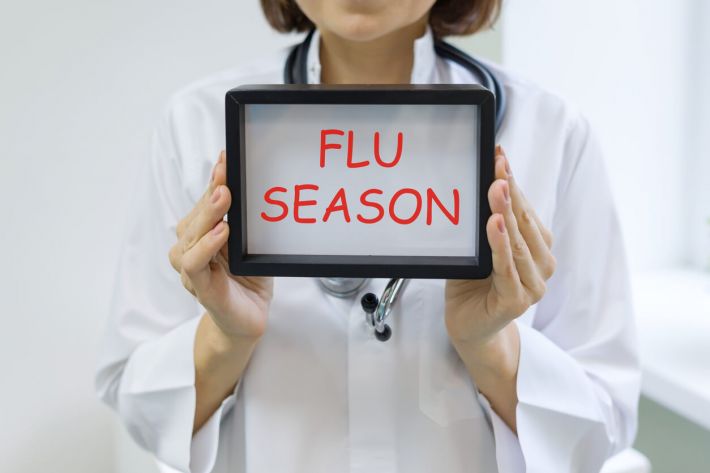 2022-10-278

on

Wed 5

Oct
Caused by viruses that affect the windpipe and lungs, flu cannot be treated by antibiotics and has many more symptoms than a simple cold.
Typically, these are:
A sudden high temperature
Chills
Muscle aches
Joint pain
Extreme fatigue
Headaches
Most people recover within 2 days to a week, but for those who are not in the best of health, complications from flu causes tens of thousands to go to go into hospital each year. They can also develop a disability or even die (this happens to an average of 600 people here in the UK)
How do you get flu?
Flu is a highly infectious illness that usually occurs in the winter months which is why vaccinations are offered in the autumn.
It is spread via droplets that are thrown into the air when someone with flu sneezes or coughs. You can be infected by these as you breathe them in or by touching surfaces where they've landed.
Obviously, you should cover your mouth and nose if you are sneezing or coughing at any time so that you're not spreading your germs. To reduce your risk to exposure, ensure the frequent washing of your hands and the use of hand gel
Protecting yourself against flu
The best way to avoid catching flu or spreading it is to have a flu injection. This is particularly advisable if
You are over 65
You have a chronic condition affecting your chest, your heart, your kidneys, your liver or your spleen.
You have a neurological condition such as MS
You have previously had a stroke or heart attack
You have a lowered immunity, or live with someone with low immunity
You are the carer of someone who is elderly or disabled
You live in the setting of a care home
You are pregnant
You are a health worker or in work in social care
You have diabetes
You have a BMI in excess of 40
About flu injections
As new strains of flu appear, flu vaccinations are updated which is why you should have them annually. It might surprise you to know that the first successful flu vaccine was used in the 1940's!
Flu vaccines work because deactivated virus is put into your body to encourage your immune system to develop antibodies that fight particular variants of the  flu.
Any side effects to the vaccination only last a couple of days and are usually very mild. Typically, these are some heat, redness, swelling or soreness at the site of injection. Adults are normally vaccinated via injection whereas children are treated via a nasal spray.
If you are in any of the categories listed please do get your flu shot. You may think that flu is no big deal, but it really can be. Please watch this video to see what I mean 
I hope this has been helpful.
We make every effort to ensure that all health advice on this website is accurate and up to date. However it is for information purposes and should not replace a visit to your doctor or health care professional. As the advice is general in nature rather than specific to individuals we cannot accept any liability for actions arising from its use nor can we be held responsible for the content of any pages referenced by an external link.