Bronchitis - what is it, how do you get it and how do you treat it?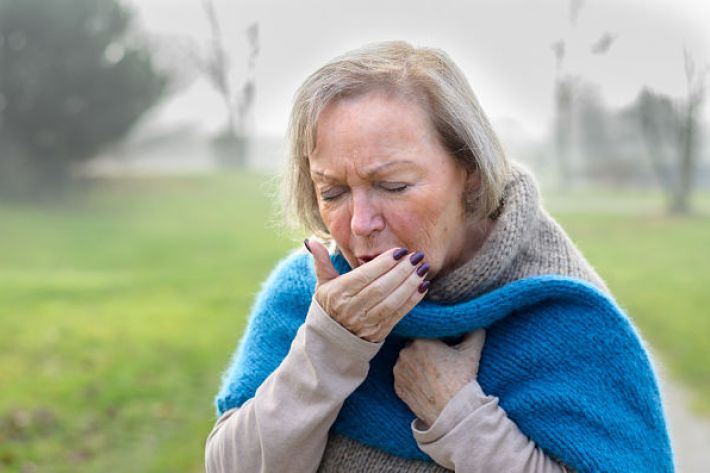 2021-11-312

on

Mon 8

Nov
It might surprise you to know that bronchitis is the same thing as a chest cold. This type of infection is not uncommon during the winter months as it frequently develops from a cold or flu. Typically, it starts as a dry cough 3 or 4 days after you become infected and then develops into coughing spasms.
Bronchitis is actually an inflammation of your bronchial tubes – the airways which allow air in and out of your lungs. When they become inflamed the inner lining swells and grows thicker thus narrowing the breathing passages. They also produce mucus which can clog the airways.
Spells of coughing are your body's way of trying to clear these secretions which is why one of the main symptoms of bronchitis is a chesty cough which produces sputum.
Other symptoms of bronchitis
Apart from the cough you may also
Feel tired
Feel breathless
Have discomfort in the chest
Have headaches
Have a blocked nose and sinuses
Have a sore throat
Experience wheezing sounds when breathing
In the normal course of things most of these symptoms clear up after about 10 days, but you may have a cough that goes on for some weeks. However, if you are in otherwise good health your lungs will return to normal post infection.
When should you see your doctor?
The symptoms of bronchitis can often be mistaken for asthma, pneumonia, allergies, a cold or flu, sinusitis or even lung cancer, so it's important to see your doctor to get an accurate diagnosis. This is vital if you are coughing up blood, have a high temperature or have a long-lasting cough.
If that cough goes on for more than 3 weeks with the above symptoms you should see your GP as you might have acute bronchitis
If your cough lasts for more than 3 months and you have similarly recurring episodes of bronchitis over two consecutive years, you're likely to be diagnosed as having chronic bronchitis. The most common cause of this is cigarette smoking.
Chronic bronchitis is a serious condition which makes your lungs a breeding ground for bacterial infections which is why it requires ongoing medical treatment
Other risk factors and how to mitigate them
Apart from cigarette smoke you have an increased risk of developing bronchitis if you
Are exposed to irritants at work
Live in an area of high pollution
Are exposed to a higher-than-normal level of chemical cleaners
Are often in a dusty environment
Have gastric reflux
Have low resistance due to a compromised immune system
You can reduce your risk of bronchitis by
Wearing a face mask
Washing your hands against viral infection
Getting a yearly flu jab and considering getting one against pneumonia
Not smoking
Diagnosis and Treatment
Your GP will ask about your symptoms and your medical history and then listen to any abnormal chest sounds with a stethoscope.
Further pulmonary function tests or chest X rays may also be done
Acute bronchitis can be treated with rest, fluids and an over-the-counter pain reliever for any aches and pains. You may also be given an expectorant to loosen your mucus or an inhaler to open up your airways
Chronic bronchitis caused by smoking means you must give up smoking first and foremost. You will probably be advised to have a flu and/or pneumonia job and may be treated with steroids
I hope this has been helpful.
We make every effort to ensure that all health advice on this website is accurate and up to date. However it is for information purposes and should not replace a visit to your doctor or health care professional. As the advice is general in nature rather than specific to individuals we cannot accept any liability for actions arising from its use nor can we be held responsible for the content of any pages referenced by an external link.