Why is excessive heat bad for us?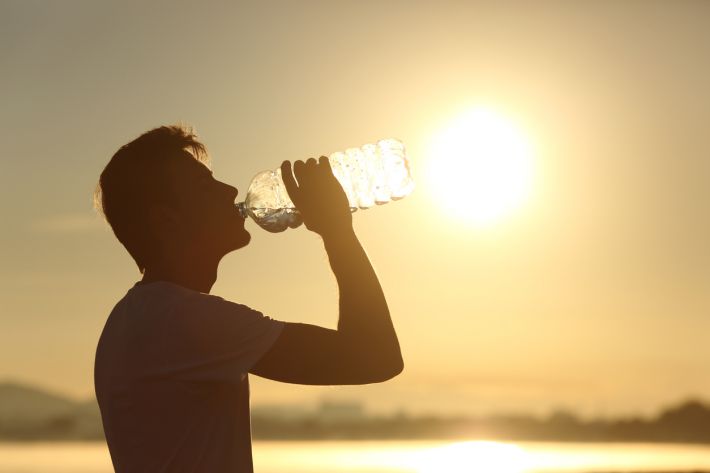 2022-07-202

on

Thu 21

Jul
Your body responds to heat in two ways:
1.It redistributes blood flow towards the skin to improve heat transfer
2. It secretes sweat onto the skin which then evaporates and removes heat
The direct consequence to the first response is that there is increased demand on the heart at the same time as there is less filling pressure.
This means the heart must pump harder and faster than usual. Naturally, this can pose a serious challenge to people with pre-existing heart conditions, and it's believed that almost half a billion people have cardiovascular disease across the world.
The direct consequence of the second response is dehydration if you are not drinking enough to replenish the amount you are sweating out.
On a normal day, the NHS recommends between 6-8 glasses (just over a litre) but in hot weather you should consume much more. However,  you should drink little and often rather than consuming more than a litre at once.
Dr Somani, a leading urological surgeon at Southampton General Hospital believes as much as 3 litres a day may be needed during hot weather. You can read more about this here.
If you become dehydrated it decreases your blood volume which can again put pressure on your cardiovascular system and potentially your kidneys.
Overheating symptoms and treatment
In extreme heat conditions the body's ability to regulate its temperature can become compromised. This leads to heat exhaustion and to heat stroke in some people.
This is more likely in those with long term health problems such as diabetes or with a pre-existing respiratory or heart condition. But you will put yourself at risk by doing excessive exercise or drinking excessive alcohol or by ignoring the higher temperatures in the middle of the day.
The symptoms of heat exhaustion include: 
Having a headache
Feeling dizzy or confused
Having no appetite
Feeling nauseous
Sweating excessively
Having pallid skin which is clammy
Experiencing cramps in the arms, legs or stomach
Breathing quickly
Having a higher-than-normal temperature
Feeling thirsty
The way to stop this and prevent it from becoming heat stroke is to cool yourself down. You can do this in 4 ways:
Get to a cool place
Drink water or a rehydration drink
Cool your skin by sponging it down with cool water. Cool packs in the armpits and on the back of the neck are also good
Lie down and raise your feet
If you don't feel better after about half an hour you should dial 111,
If you are with someone who deteriorates despite this treatment to a point of them being nonresponsive, unconscious or fitting it is an emergency, and you should dial 999.
Children in the heat
Keep a very close eye on young children in the heat. Their thermoregulatory systems are not fully developed, and their relative high skin surface area causes them to absorb heat more quickly than adults.
Others who are vulnerable
There is a higher risk of heat related illness or injury in those with a pre-existing mental condition. They are more vulnerable because they're often unable to effect avoiding actions or take steps to cool themselves down.
The elderly are also more at risk during periods of extreme heat and may need reminding to rehydrate.
I hope this has been helpful