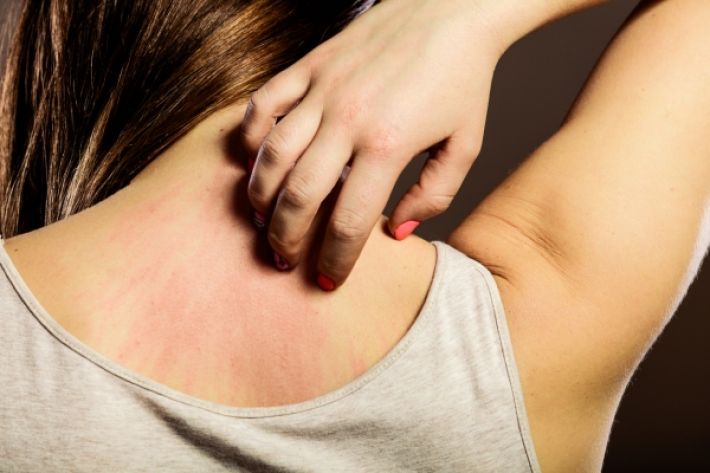 2022-06-160

on

Thu 9

Jun
Hives is a raised itchy/stinging rash, bumps or welts which suddenly appear on the skin anywhere on the body. These usually appear in batches and on pale skins the rash may look red, on darker skins the rash colour will be more difficult to see.
Other typical symptoms include:
swelling under the affected skin
the centre of the rash becoming pale when pressed
affected areas linking up to join
bumps appearing and disappearing or even completely changing location
Affecting about 20% of people at some point in their life, this is not transmitted from one person to another, it is usually triggered by allergens or by circumstances.
Allergen triggers usually include:
Pollen
Medications
Food
Additives in cosmetics or washing products
Wearing latex
Being stung by plants such as stinging nettles
Eating mango, chestnut, kiwi fruit or bananas
Animal dander
Insect bites
 Circumstantial triggers can include
Feeling stressed
Wearing tight fitting clothes/a tight belt
Illness
Infection
Intestinal parasites
Excessive exposure to extreme temperature
UV light
In rare cases, vibration
Already having known allergies
As an underlying condition – see chronic hives below.
If hives is caused by food, the reaction usually occurs within an hour and lasts about 24 hours.
If  the condition is caused by touching, reaction can happen as quickly as within 10 minutes but again within up to an hour.
A reaction to a drug can happen much later – even up to some months or years
What is the treatment for hives?
It is the raising of histamine levels in the blood that causes hives. This happens when the histamine protein is released by the body in an attempt to protect itself from infection or external factors.
In most cases hives are temporary and the situation can be resolved through the taking of over the counter antihistamine tablets and avoiding any triggers over which you have some control.
You could also try soothing lotions or creams to reduce itchiness
If you develop a mild infection of the skin you should use antiseptic cream
If it goes on for several weeks you should consult your GP who will probably give you stronger antihistamines or steroids.
And if you develop a breathing problem and have swelling around the tongue or throat such that you are becoming lightheaded or have a rapid heartbeat, you should call for emergency help as you may go into anaphylaxis which is life-threatening.
Your doctor may also prescribe an epi-pen to carry for emergency use.
Can you have chronic hives?
Yes, the condition is generally regarded as chronic if it goes on for more than 6 weeks. (This seems to happen in about 8% of cases). At which time it is medically described as "chronic urticaria"
Whilst not life threatening it can be extremely uncomfortable and is often an underlying symptom of an auto immune disease such as lupus, type 1 diabetes, thyroid disease or rheumatoid arthritis.
So again, please don't ignore it, you should consult your GP.
In terms of treatment, you are likely to be on antihistamines but may also be prescribed a drug that blocks immunoglobin E - something which plays a part in allergic responses.
I hope this has been helpful.
We make every effort to ensure that all health advice on this website is accurate and up to date. However it is for information purposes and should not replace a visit to your doctor or health care professional. As the advice is general in nature rather than specific to individuals we cannot accept any liability for actions arising from its use nor can we be held responsible for the content of any pages referenced by an external link.