The signs and symptoms of self-harm and where to get help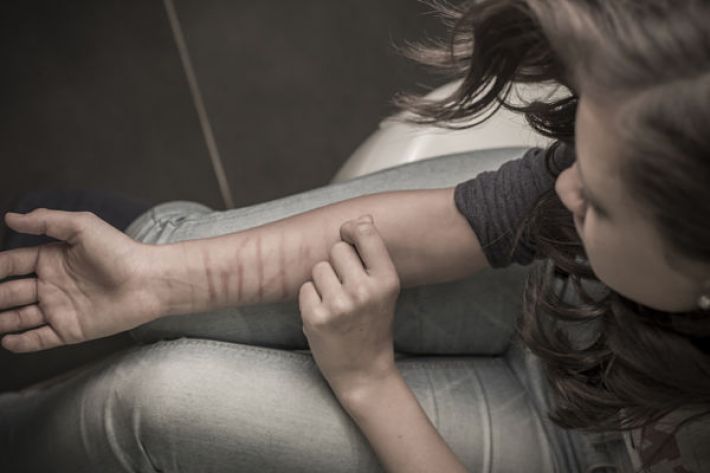 2019-10-297

on

Thu 24

Oct
Shocking though this may sound self-harm – when someone intentionally hurts themselves – is now considered very common behaviour which possibly affects 10% of 15 to 16 year olds – primarily females.
However this is not exclusively a "teen thing"
We're unable to cite accurate figures because this is usually a secret and hidden activity but we do know that self-harm usually starts as a way of relieving the pressure of thoughts or feelings that are overwhelmingly distressful. In other words it is a coping strategy whereby emotional pain is relieved by physical pain.
There are several key factors that usually pre-empt this including
bullying
problems at home
problems within a friendship group
low self esteem
anxiety or depression
academic pressures
negative feelings about body image
bereavement
abuse
painful memories
The warning signs of self-harm
If you are concerned about friends, family or colleagues there are some signs which may indicate that someone is self-harming.
Physical signs:
cuts, bruises, bite-marks, scratch marks, burns or bald patches from hair pulling
Sudden weight loss or gain
Drinking or taking drugs
Being withdrawn and isolated
Keeping themselves covered up
Bloody tissues in bins
Boys often show different signs which may not be picked up as self-harming. For example breaking the skin on their knuckles by hitting walls; getting into fights and over exercising.
Emotional Signs:
Appearing withdrawn
Having a low mood
Losing interest in life
Outbursts of anger
Blaming themselves for problems
Saying they feel a failure, useless or hopeless
How to support
The Mix, a website which supports the under 25's, shares five tips if someone tells you they are self-harming here 
Follow the link to read these in full but essentially they are          
Don't panic
Offer to listen
Help them find support
Be there for the long haul
Look after yourself
The charity Young Minds has similar advice but also shares what NOT to do in this article including
Where to get help
It's important to seek help for someone who is self-harming. More than 50% of people who commit suicide have a history of self-harming so it's essential to get help with managing or sorting out the underlying problem.
Your first port of call should be your GP who can then refer you professionals in the care of mental health. You may also be prescribed anti-depressants
Apart from the organisations I have already mentioned there are many others that can help with support including Samaritans – you can call 116 123 for free; and Mind    .
There is also the national self-harm network 
Finally I recommend an extremely helpful resource put together by the Welsh Government.  This has a large quantity of helpful step by step advice 
I do hope this assists you.
We make every effort to ensure that all health advice on this website is accurate and up to date. However it is for information purposes and should not replace a visit to your doctor or health care professional. As the advice is general in nature rather than specific to individuals we cannot accept any liability for actions arising from its use nor can we be held responsible for the content of any pages referenced by an external link.