Taking HRT during perimenopause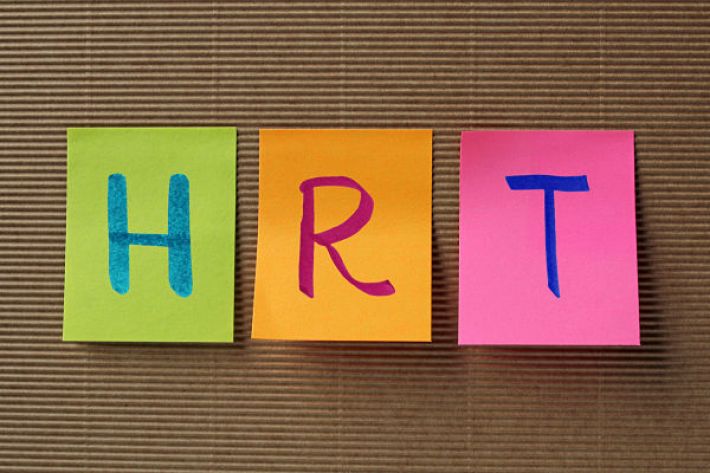 2021-04-111

on

Wed 21

Apr
Whereas menopause is a point in time typically identified as the time in your life when you've not had a period for 12 months, perimenopause is a transitional state leading up to that time "Peri" being the Greek word for "around" or "near".
The perimenopause varies from woman to woman, sometimes it lasts 6 months and sometimes it is 5 years but it usually happens in your forties.
I think it's fair to say that most women don't realise what is happening to their bodies at that age - particularly because symptoms are intermittent
The first signs are usually irregular, heavy periods. You may also wake up with night sweats. However, women do report other symptoms such as
mood changes including irritability, anxiety and depression
poor sleep
a lowered libido
brain fog
So not exactly an easy time for some women…
Can anything be done to help women through perimenopause?
It's useful to remember that Menopause has lagged in terms of evolutionary catch up. The reason we lose the ability to reproduce at a relatively young age is because we would probably only have lived until our fifties at one time. 
So it is your wildly fluctuating hormones in your forties that signal your reproductive decline and therefore perimenopause.  Unfortunately,  this is not always picked up by GP's and it's not unusual for women to be offered anti-depressants as a "solution"
You can actually take HRT as soon as you show some of the above signs. Don't forgot HRT stands for Hormone Replacement Therapy and that's exactly what you are aiming to do.  Replace what was there before by using gentle hormones that are identical to our own bodies. You are simply topping everything up.
What about the risks of taking HRT?
Long ago studies that are still cited from time to time were conducted at a time when hormones used synthetic oestrogen and progesterone. We now use body identical hormones and the risk per year might go up just 0.1% per year
However,  it's important to put things into context. The breast cancer fear is not presented within the whole situation which shows that women who use HRT lower their overall risk of death associated with conditions which may happen as we grow older.
For example I talk here about cardiovascular disease  
For this reason it's suggested you should explore the possibility of taking low doses of HRT if you have a strong family history heart disease, stroke or osteoporosis.
Please get in touch if you think that your current lifestyle is being compromised by symptoms that could well be down to the perimenopause. And please share this blog post within any female friends, relatives or colleagues who may be similarly struggling.
We make every effort to ensure that all health advice on this website is accurate and up to date. However it is for information purposes and should not replace a visit to your doctor or health care professional. As the advice is general in nature rather than specific to individuals we cannot accept any liability for actions arising from its use nor can we be held responsible for the content of any pages referenced by an external link.