Staying healthy with the help of digital apps and tools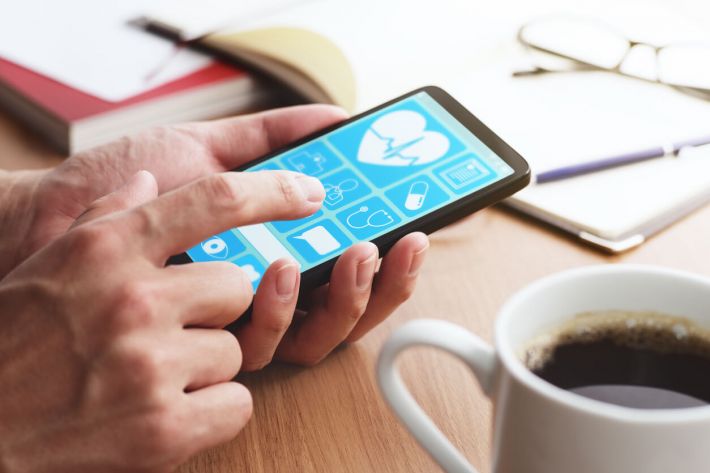 2022-07-188

on

Thu 7

Jul
The UK has an active digital health market for both private and public sectors with vast growth in the sector since March 2020. As a result, there' s an increasing amount of available digital apps and tools which are designed to empower you to monitor or improve your mental and physical health.
Some of these will undoubtedly be familiar to you as they've been around a while - like the Fitbit app which measures and motivates you in terms of your activity, sleep, nutrition and stress. Believe it or not Fitbits first came out in 2009!
You may also have heard of Headspace the guided meditation and mindfulness app which got a fair amount of coverage during the time we battled with the mental challenges of the pandemic. If not you can find out more about it here
However, there is a plethora of other apps that are really helpful in terms of taking care of your mind and body in a way which easily fits in with your undoubtedly busy lifestyle.
Public Health England offers the free "Couch to 5k" app which reckons to get you off the coach and running without stopping within 9 weeks. Find out more here.  They also offer help to reduce your drinking  and to reduce your smoking 
Femtech (female technology) is an enormous growth area with many apps designed to help women track their periods, their ovulation and their fertility. If this is of interest to you, there's a helpful list of these here
And, of course, there is the balance app for those seeing guidance and knowledge about menopause. You can find out more about this here
Then there are apps to help with specific conditions, for example for type 1 diabetes…
…you might be surprised to know that an artificial pancreas running on an Android app (called CamAPS FX) was launched by Cambridge University in 2020. This led to NHS England announcing a landmark trial whereby 1000 patients with type 1 diabetes would be fitted with an "artificial pancreas"
Monitored by smartphone, this app negates the need for injections and fingerprick testing by using by using "closed loop" technology. In effect algorithms automatically balance blood sugar levels by constantly measuring glucose levels and delivering any required insulin directly to the bloodstream via a pump. If successful this will undoubtedly transform the lives of those living with type 1 diabetes.
Innovation continues for both specific conditions and generally across the health service. Video games for the diagnosis, monitoring and treatment of mental health conditions is one such area. This is in the early stages but is thought to have potential because mental health games remove the feeling of being tested and measured.
For example, one UK company – Thymia -uses computer games to help doctors to detect and diagnose potential mental health conditions in their patients. This is done by gathering and evaluating indications that are relevant for understanding e.g., symptom of depression.
Currently being trialled in 9 areas by the NHS, is an app called WaitLess This helps patients to decide where to go for faster treatment of minor injuries by providing real time travel information and wait times at various local hospitals If you would like to find out more you can watch this video.
It's fair to say that digital health applications have become a new frontier in care delivery and this area has seen a speedy growth of relationships between health care and tech companies in in terms of their development. This can only be a good thing for patients overall.
We make every effort to ensure that all health advice on this website is accurate and up to date. However it is for information purposes and should not replace a visit to your doctor or health care professional. As the advice is general in nature rather than specific to individuals we cannot accept any liability for actions arising from its use nor can we be held responsible for the content of any pages referenced by an external link.