Rosacea – symptoms, subtypes, triggers and treatment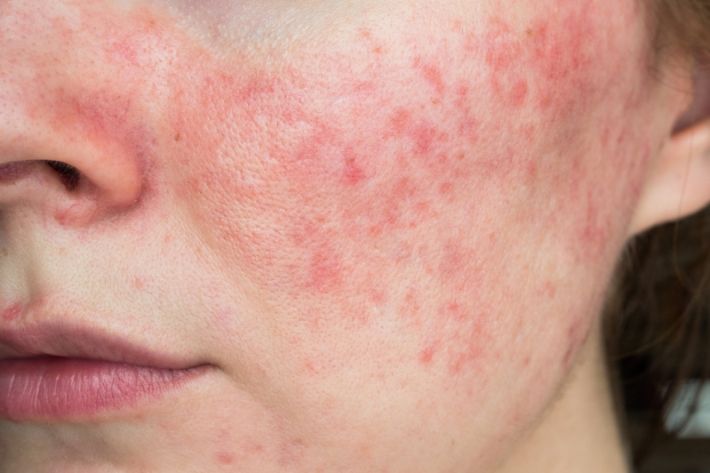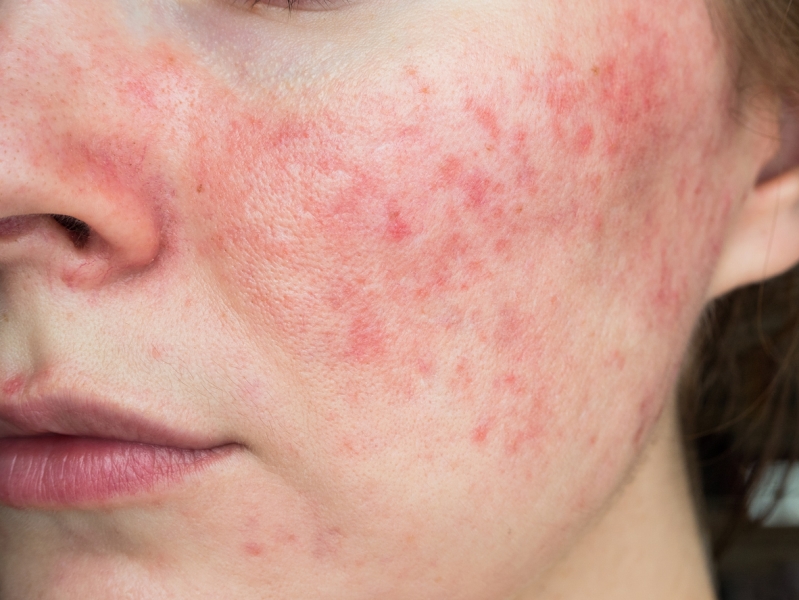 2022-04-118

on

Thu 28

Apr
Typified by persistent facial redness and thread veins, Acne Rosacea is a common inflammatory skin condition which causes blushing/flushing mostly in women. There are four subtypes of the condition and those experiencing these symptoms are said to have "Erythematotelangiectatic Rosacea"
Those who also develop red bumps (known as papules) and pus-filled swellings (known as pustules) are said to have "Papulopustular Rosacea" (or acne rosacea)
You may also experience stinging or burning areas of skin or rough dry patches on your face.
It is a chronic skin condition which usually appears on the forehead, chin, nose and cheeks typically between the ages of 30 and 50. It mostly occurs in people with fair skin and blue eyes or in those with Celtic or Nordic descent.
Those who had severe acne in their youth are also more susceptible
 What causes Rosacea?
It is not absolutely clear what causes Rosacea, but current thinking is:
It can be genetic
From a heightened sensitivity to normally harmless skin mites called "Demodex follicurum"
It can be caused by a bacterial imbalance in the microbiome of the gut through the presence of helicobacter pylori bacteria
Sun damaged blood vessels can become wider, and this makes your skin appear more red.
Triggers which you could control
If you can identify what triggers an outbreak you can avoid them. So here are some common ones:
Stress
Spicy foods
Temperature change
Menopause
Sunlight
Hot baths
Alcohol
Caffeine
Intense exercise
Steroid creams
Blood pressure drugs
UV light
You will also help to fade the redness in your skin by:
Wearing sunscreen at least Factor 30
Using gentle skin products (without alcohol, fragrance or witch hazel)
Using moisturiser
By patting your face dry after washing rather than rubbing it
Massaging your face in a gently circular motion from the nose out towards your ears can help
Some people find adopting an anti-inflammatory diet like the Mediterranean diet can also help
Rosacea Complications
Rosacea can come and go which means that it is tempting to put up with it rather than seek treatment. However, it's actually important to seek medical help as the untreated condition can lead to
Swollen, red inflamed and painful eyes and eyelids– this is called Ocular rosacea
Eye pain, light sensitivity or deteriorating vision which can indicate that your corneas are affected
If you experience any of these above symptoms you should urgently see your GP
A fibrous thickening of the nose called "Phymatous Rosacea" – which left untreated leads to a swollen bulbous nose with prominent pores known as Rhinophyma. This seldom occurs in women.
Sometimes these Rosacea subtypes – and the ones described at the beginning of the article - overlap
Rosacea Treatment
Although Rosacea cannot be cured it can be managed. It is not advisable to use over the counter products – these can worsen the condition. This is usually using creams, antibiotics or Intense Pulsed Light (IPL) treatment as required.
You can also cover the redness with special make up.
I hope this has been helpful.
We make every effort to ensure that all health advice on this website is accurate and up to date. However it is for information purposes and should not replace a visit to your doctor or health care professional. As the advice is general in nature rather than specific to individuals we cannot accept any liability for actions arising from its use nor can we be held responsible for the content of any pages referenced by an external link.