Recognising the early signs and symptoms of cancer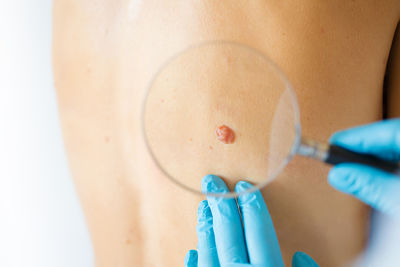 2020-08-219

on

Thu 6

Aug
There has been increasing concern that people have been slower to consult with their GP's during the pandemic.
Initially there may have been challenges in actually seeing the doctor but this has largely been ironed out with the combination of virtual consulting and new patient processes for actually visiting the surgery.
So the next problem to resolve is the perception that minor symptoms don't merit "bothering the doctor" This is particularly the case with our older citizens who feel they should not "make a fuss"
For this reason it is important to keep an eye on your elderly friends, neighbour sand relatives as well as yourself. This is particularly the case the early signs of cancer which are recognisable but sometimes easy to ignore through fear or a lack of awareness of their significance.
The importance of early detection
You might be surprised to know that 90% of bowel, breast and ovarian cancer patients will survive their disease by in excess of 5 years if it is spotted early on.
However, this will not happen if treatment is not given, and cancer will continues to develop 24/7.
Early action makes a difference so the main habit to develop is the regular monitoring of your entire body to better understand it.
This is particularly helpful when certain symptoms could actually be triggered by something else.  For example women going through menopause will very often have night sweats;  and as we age our fingernails become more ridged. What are you mostly looking for are unexplained changes.
There are some very useful charts to help with this just here 
Signs and symptoms to look for
Abnormal bleeding, discharges or bruising
Changes in the breast for both men and women
Unusual changes in your finger or toenails
Weakness – a lack of physical strength with extra effort to make muscles work
Fatigue – actually feeling exhausted even if you believe you are getting sufficient sleep
Persistent swelling or bloating in a certain area/areas of your body
A persistent cough that lasts more than 3 weeks
Shortness of breath, pain or wheezing after normal activities
Unusual changes to your ears or eyes
Frequently upset stomach or acid stomach
Heavy night sweats that don't disappear after a week
A temperature of more than 38C or 100.4F for more than two weeks
Enlarged lymph glands without infection present
Intense itching which cannot be soothed
Unusual changes in your mouth, tongue or throat
Developing a hoarse voice or having or difficulty in swallowing
Unusual changes to your scrotum or testicles
A persistent headache which will not shift
An enlarged thyroid
Sudden or unexplained lumps or bulges on the body
Loss of balance, falls or dizziness
Inconsistent pain, cramps or tenderness
An unexpected loss of weight or weight gain with bloating
A change in urine, stools and the passing of these
Changes to your skin. Here is the ABCDE method for checking moles, freckles or birthmarks
The ABCDE Method: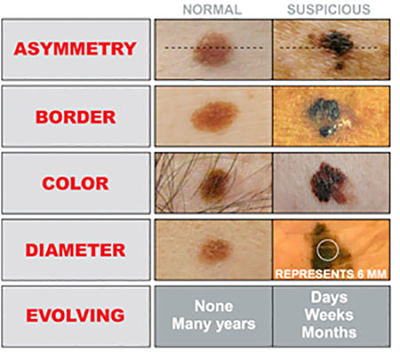 To find out more detail about any of the above please visit  the Spotting cancer page just here 
Consulting your GP
If there has been an unusual or persistent change in your body please get it checked out rather than wait for it to clear up. Cancer research UK advises "be as stubborn as your symptom" – you will NOT be wasting the Doctor's time. They would rather make a plan with you than have you worrying at home
 It will probably be helpful to write down what you want to discuss:
Be ready to explain your symptoms and how long you have experienced them
Do this thoroughly – mention them all – don't dismiss them as part of getting older for example
Don't hide something that you may feel embarrassed about
it is useful to have a list of any of your medications (including over the counter or herbal remedies)
It would also be useful to mention any history or cancer in the family
Your Doctor may refer you for further tests - do make sure you attend that appointment - or they may prescribe something to treat a symptom which may not necessarily be connected with cancer.
They will want to see you again if a prescribed course of treatment has not worked so make sure you make a follow up appointment if that is the case.
I hope this has been helpful
You may also want to look at this blog post which links to posts I have written about several forms of cancer as well as lifestyle changes which can reduce the risk and the latest research.
We make every effort to ensure that all health advice on this website is accurate and up to date. However it is for information purposes and should not replace a visit to your doctor or health care professional. As the advice is general in nature rather than specific to individuals we cannot accept any liability for actions arising from its use nor can we be held responsible for the content of any pages referenced by an external link.