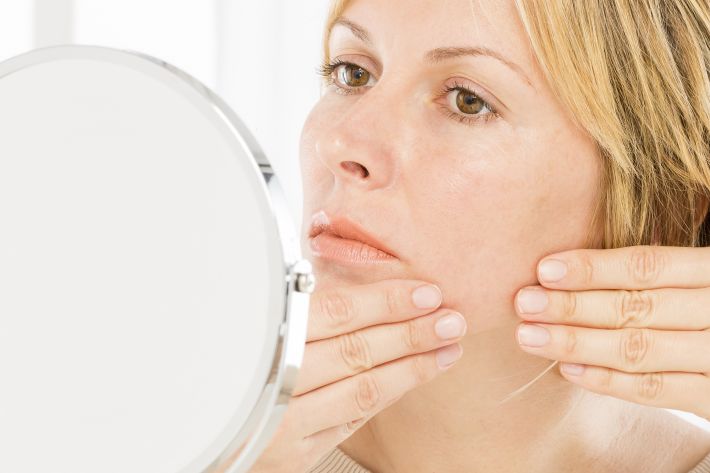 2016-06-154

on

Thu 2

Jun
Let's face it most of us don't expect to develop acne beyond out teenage years, however it can happen as you approach menopause through perimenopause.  Whatever age you are this is all to do with hormones - in this case there is an overall decrease in oestrogen whilst your androgens (male hormones) remain constant and so begin to dominate.
One of the strongest androgens – testosterone – can cause an increase in the production of sebum. This is an oily substance which is produced by your skin's sebaceous glands which can unfortunately clog pores.  This clogging can then be exacerbated by the slowed down regeneration of older skin which means excess skin cells can build up thus leading to inflammation and infection.
Unlike the typical T zone of your face affected in your teens, acne in our 40's and 50's tends to be around the upper neck, jawline and chin. At this age it will not manifest as the black heads, whiteheads, pustules and red bumps of your youth but rather as small, deep, often tender cysts. These can take between 2 to 4 weeks to resolve.
As this type of acne is deeply seated, topical solutions are often less effective and it's more likely that you will have to take prescribed tablets. It is wise to seek advice from your GP or menopause specialist if you are experiencing these cysts as they are capable of scarring if they become very inflamed.
Unfortunately there is a degree of unpredictability with this condition.  You can be clear for months and then another outbreak will occur. There is also some indication that if you had acne breakouts in your teens you may be predisposed to them during menopause.
However, maintaining good self-care strategies can help.  These include:
Washing your face daily with a gentle cleanser and then moisturising
Avoiding harsh products and scrubbing the area
Avoiding the temptation to squeeze or pick at the pimples
Protecting the area from the harsh rays of the sun
Changing oil based cosmetics to water or mineral based products
I have some excellent skin care products for the types of skin troubles that are seen in menopausal ladies. Do get in touch if you would like to find out more. I hope you've found this blog post helpful.
We make every effort to ensure that all health advice on this website is accurate and up to date. However it is for information purposes and should not replace a visit to your doctor or health care professional.
As the advice is general in nature rather than specific to individuals we cannot accept any liability for actions arising from its use nor can we be held responsible for the content of any pages referenced by an external link.