Meningitis - signs, symptoms and the importance of quick action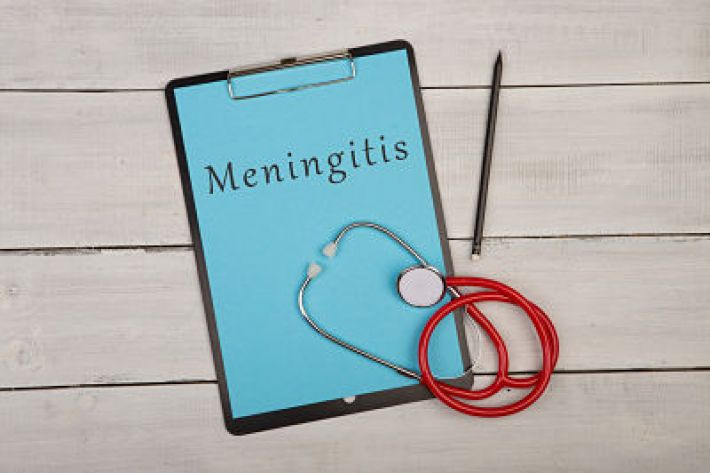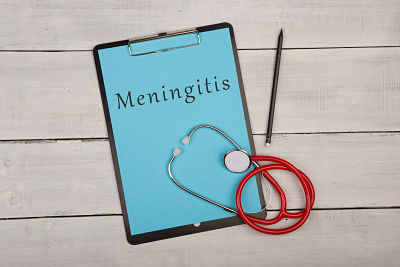 2019-09-262

on

Thu 19

Sep
Meningitis is so called as it is an infection of the fluid in the meninges – which are coverings on the brain and spinal cord. The infection can spread from that fluid into the brain itself and is a dangerous condition which can quickly cause brain damage or even death if left untreated.
Meningitis is caused by either bacteria, a virus or a fungal infection; it can be chronic or acute, mild or severe.  About 80% of cases are caused by bacterial meningitis which is life threatening.
About 10% of the population naturally carries this bacteria at the back of our throats but this mostly helps to develop immunity.  It is only when the body is overcome by the bacteria that meningitis develops.
What are the main risks of getting meningitis?
It can affect anyone but you are at greater risk
Under the age of 5 and particularly between the ages of 1 month and 2 years old.
Between 15 and 24
Over 65
and if
you have problems with your immune system
have had your spleen removed
you are on corticosteroids due to kidney failure or sickle cell disease
you abuse alcohol
you are exposed to passive smoking, or live in a crowded situation where you are in close contact with others.
What are the main symptoms?
There are various early symptoms which can most easily be explained using the following illustrations from Medical News Today
The following symptoms do not appear in any particular order and may not ALL appear. Babies may also breathe more rapidly and grunt or develop a peculiarly high pitched cry.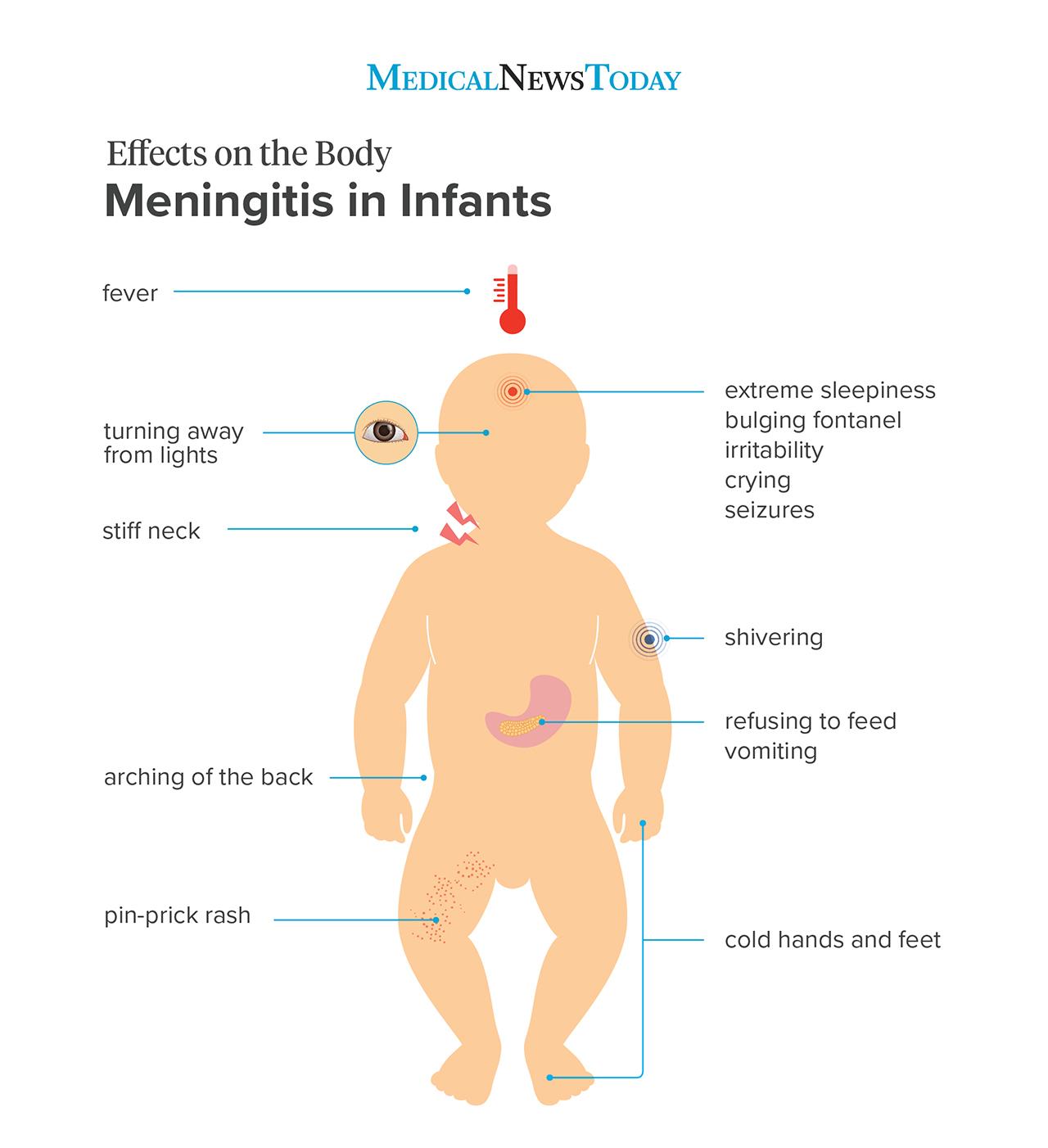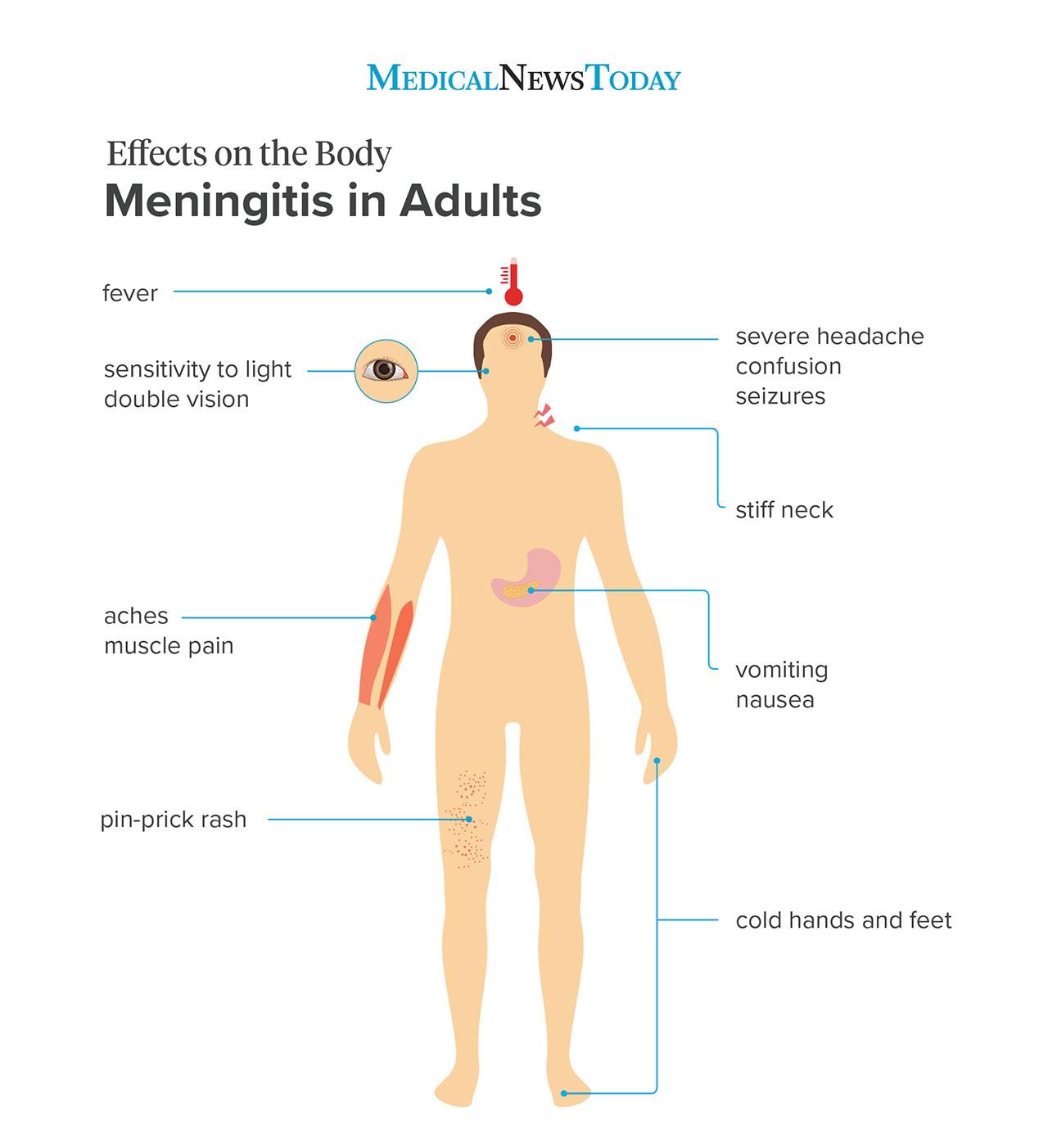 The meningitis rash
Many people believe that a rash is the main symptom of meningitis but it will not always appear and may in fact be the last symptom to be seen.
Don't wait for the rash to develop if you have seen any of the other typical symptoms as the condition can become serious very quickly indeed.
The rash is caused when bacteria releases toxins into the bloodstream which in turn causes septicaemia whereby there is bleeding under the skin where blood vessels are breaking down. This leads to:
tiny pink, purple, red or brown pinpricks on the skin
or purple bruise like marks
of blotchy, pale or mottle skin
It is more difficult to pick up this meningitis rash in dark skinned babies so check the soles of their feet and the palms of their feet.
If you see any such signs – especially if they are displaying other likely symptoms of meningitis - do a glass test.
The glass test
The glass test of such spots/rash involves pressing the side of a glass against the affected area.  Usually the spot will disappear when you do this however in meningitis the rash is "non-blanching" which means the rash can be clearly seen through the glass as you press upon the affected area.
If the rash IS clearly visible – especially when other symptoms are apparent - call an ambulance or go immediately to A and E.
Protect yourself and your loved ones
Make sure your family takes full advantage of the vaccination programme.
Babies are routinely given several vaccinations between 8 weeks and 1 year. This is followed by the MMR at 12 months and then at 3 years and 4 months.
Students going away to further education for the first time are also offered the meningitis ACWY vaccine.
The charity Meningitis Now has a free meningitis symptoms app for the iPhone and iPad which can be downloaded from the Apple Store. Search for Meningitis Now.
My main message is that as someone with bacterial meningitis can deteriorate very quickly - the onset of symptoms is within 24 hours - it is wise to trust your instincts and get medical help urgently.
We make every effort to ensure that all health advice on this website is accurate and up to date. However it is for information purposes and should not replace a visit to your doctor or health care professional. As the advice is general in nature rather than specific to individuals we cannot accept any liability for actions arising from its use nor can we be held responsible for the content of any pages referenced by an external link.