Calcium quantities in every day food portions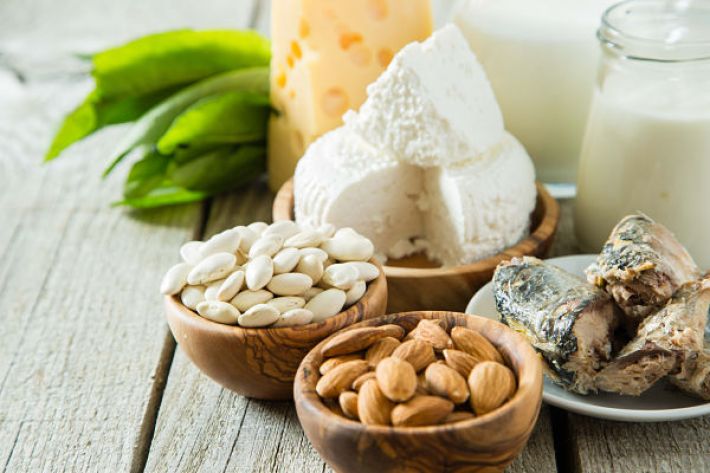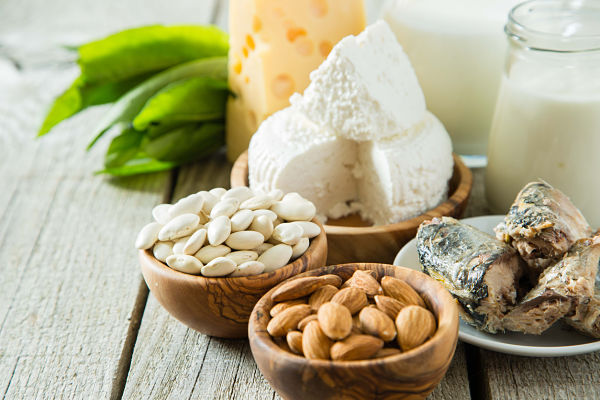 2018-10-274

on

Mon 1

Oct
Our skeleton is an astonishing piece of engineering. Comprised of 206 bones it supports our body, forms our shape and protects our brain, spinal cord and vulnerable organs.
You might be surprised to know that our skeleton begins to form as cartilage whilst you are in the womb - but within a few weeks of being born it starts to ossify – or harden. This takes a full twenty years to complete and requires deposits of calcium, phosphate and collagen which creates our extremely strong but lightweight bones
How much calcium do we need? 
It is the calcium which makes the bones hard and, since the body cannot create its own supply, it is vital that our diet includes it.  The amount of calcium that we need varies according to our age because our body becomes less efficient at absorbing it. The National Osteoporosis Society recommends the following:
0-12 months (non-breastfed only) - 525mg
1-3 years - 350mg
4-6 years - 450mg
7-10 years - 550mg
11-18 years – boys - 1000mg
11-18 years – girls - 800mg
Adults (19+) years - 700mg
Pregnant women - 700mg
Breastfeeding women - 1250mg
Women who are post menopause - 1200mg
Calcium quantities in everyday food portions
Fortunately many foodstuffs are naturally abundant in this mineral. Here are several sources of calcium listed in the way we buy them. It's often tricky to work out what quantities actually look like isn't it?
| | |
| --- | --- |
| 200ml milk (about ¾ of a tumbler) | 240mg |
| 200ml calcium fortified soya, almond or rice milk | 240mg |
| 1 small pot of yoghurt (125g) | 200mg |
| 1 mini pot fromage frais | 50mg |
| One scoop of ice cream | Approx. 80mg depending on flavour* |
| 1 serving custard | 120mg |
| 1 thin slice processed cheese | 115mg |
| A matchbox sized piece of cheese | 220mg |
| A small portion of whitebait | 430mg |
| 6 pieces breaded scampi | 190mg |
| 60g (half tin) of sardines | 258mg |
| 105g tin of salmon | 100mg |
| Small tin baked beans (200g) | 100mg** |
| Tinned tomatoes (400g) | 50mg |
| Half a large tin of rice pudding | 176mg |
| 10 whole almonds/9 whole brazil nuts | 50mg |
| 1 tablespoon sesame seeds | 100mg |
| 1 heaped teaspoon tahini (sesame paste) | 100mg |
| 100g spinach | 99mg |
| 2 spears broccoli | 34mg |
| 1 serving Spring greens (75g) | 56mg |
| 1 large orange | 50mg |
| 1 medium white /thick wholemeal slice of bread | 50mg |
| 1 slice pitta bread (60g) | 80mg |
| Half a 200g pack of Tofu | 167mg |
| 1 half pot houmous | 50mg |
* Low fat versions of dairy products often have slightly more calcium content
** According to the British Dietetic Association the following contain oxalates and/or phytates which reduce the amount of calcium you can absorb from them:  dried fruits, spinach, beans, seeds, and nuts. This means you should not rely on them as your main calcium source.
The importance of Vitamin D
Don't forget that an adequate Vitamin D intake is also required to ensure calcium is absorbed properly. Our main source is from sunlight on our skin so between April and September going out two or three times a week for about 15 minutes between 11am and 3pm should give us sufficient supplies.
Foods such as fish, eggs and fortified breakfast cereals are also rich in vitamin D but most of us need a Vitamin D supplement in the Autumn/Winter and all year round if
You are pregnant or breastfeeding or
Over 65 years of age or
You have darker skin
I do hope this has been helpful.
Sources include: https://www.bda.uk.com/foodfacts/Calcium.pdf 
We make every effort to ensure that all health advice on this website is accurate and up to date. However it is for information purposes and should not replace a visit to your doctor or health care professional. As the advice is general in nature rather than specific to individuals we cannot accept any liability for actions arising from its use nor can we be held responsible for the content of any pages referenced by an external link.