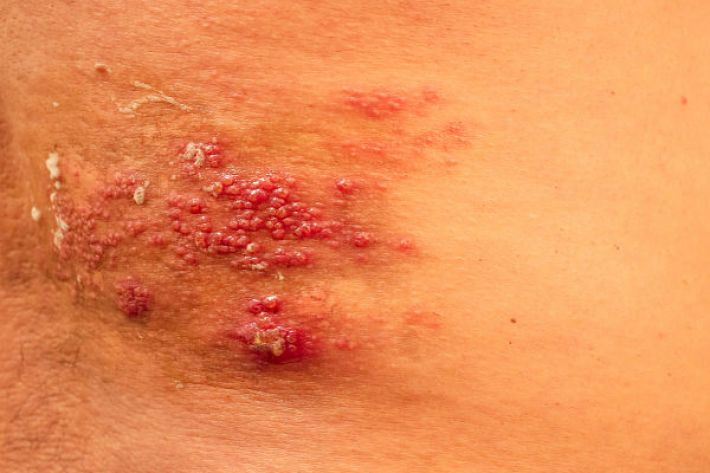 2022-03-69

on

Thu 10

Mar
Most common in people over the age of 50, shingles is caused by varicella-zoster - the virus which causes chickenpox. This virus typically lies dormant in nerve tissue near your spinal cord and brain and can reactivate as shingles when your immune system is weakened.
There are several potential causes of this:
Ageing
Being under serious stress
Having had a serious injury
Cancer treatments such as radiation or chemotherapy
Taking medications which prevent the rejection of transplanted organs
Prolonged use of steroids such as Prednisone
Typical symptoms of shingles
Pain is usually the first sign of shingles, it can be quite intense pain and, depending on its location, is sometimes confused with heart, lung or kidney problems. Other typical symptoms are
Burning, numbness, itching or tingling
Being touch sensitive
Enlarged lymph nodes
An upset stomach
A red rash which appears a few days after pain (although some people do not get this) which wraps around the left or right side of your torso. Less commonly this can occur around the eye, face or neck
Blisters which are filled with fluid and which break open and crust over
Less typical symptoms are also occasionally experienced. These include
Fever
Headache
Being sensitive to light
Feeling tired
Most people will only get shingles once, but it can come back if your immune system is weakened
Consulting your GP
You should always see your Doctor if you think you have shingles.  But you should do this with some urgency if:
The pain and rash occurs near the eye as it can cause permanent eye damage if left untreated.
You are 60 or older as complications are more commonplace.
The rash is widespread and painful
You have a weakened immune system
Is shingles contagious?
Like chickenpox, you are contagious until your blisters scab. So during this time you should avoid contact with anyone who has a low immune system; people who have not had chickenpox; pregnant women and new born infants
Treatment for shingles
Antiviral drugs can help you heal more quickly and are ideally taken within 3 days of the rash starting
Soothing treatments such as medicated lotions or cool compresses can help as will over the counter anti inflammatories such as Ibuprofen and prescription painkillers such as Codeine
Why have the shingles vaccine?
Although shingles is not life threatening it can be extremely painful and a preventative vaccines can:
Help reduce the risk of developing shingles
Shorten the duration of a shingles infection
Lessen complications such as postherpetic neuralgia whereby shingles pain lasts for a longer period than your blisters (this affects 20% of those with shingles); vision loss from ophthalmic shingles; neurological problems including encephalitis, paralysis of the face or hearing/balance problems
This Practice offers Shingrix which is 90% effective. Given over two doses this provides protection for 5 years or more.
I hope this has been helpful.
We make every effort to ensure that all health advice on this website is accurate and up to date. However it is for information purposes and should not replace a visit to your doctor or health care professional. 
As the advice is general in nature rather than specific to individuals we cannot accept any liability for actions arising from its use nor can we be held responsible for the content of any pages referenced by an external link.